CALLIGRAFFITI – THE GRAPHIC ART OF NIELS "SHOE" MEULMAN
Artist Niels "Shoe" Meulman explores the contours of words as images in "Calligraffiti" – his hybrid art form which blends calligraphy and graffiti. This impressive publication showcases a fine selection of artworks by Meulman as he presents for our viewing pleasure a wonderful series of fast phrases and upbeat witticisms in the form of captivating typographic masterpieces. Every spread offers two interacting visuals.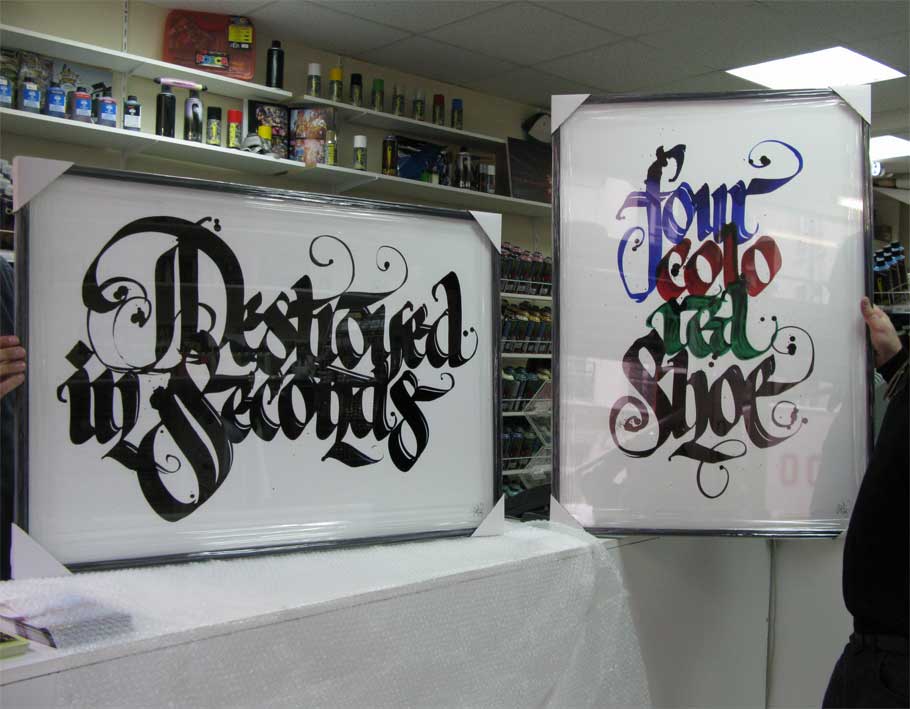 This interplay of contrasts, such as 'idea-execution' or 'rise-fall', makes this volume much more than a collection of the artist's best work; it unveils the basis of all graphic art. The book includes an essay by esteemed writer Adam Eeuwens tracing Meulman's creative progression, as well as a foreword by the highly regarded symbologist John Langdon and perspicacious comments from Meulman himself sprinkled throughout.
Niels Meulman the contemporary Dutch calligrapher, typographer and designer who gained initial recognition as graffiti artist "SHOE". After an apprenticeship with Dutch graphic design master Anthon Beeke, he went on to run his own design company, worked as senior art director for BBDO and more recently works as a creative director for MTV Europe, freelances and specializes in typographic design. His designs form part of the permanent collections of the Stedelijk Museum Amsterdam and MOMA San Francisco. Notable works include a signature shoe design for Umbro and his own silk scarf label – Unruly.
Title: CALLIGRAFFITI – THE GRAPHIC ART OF NIELS "SHOE" MEULMAN
Author: Adam Eeuwens and Niels Meulman
Pages: 144, black & white, ca. 250 Illustrations & photos
Format: 23,4 x 23,4 cm (9.2 x 9.2 inches)
Language: English edition
Price Hardcover: US $ 29.90 | 19.95 € | 19.99 £
ISBN Hardcover: 978-3-937946-21-4
Labels: calligraffiti